---
Providing Delaware incorporation information and general business news you need to know now.
"Should I Reserve a Company Name in Delaware?"
---
By Andrew Millman

Monday, March 2, 2015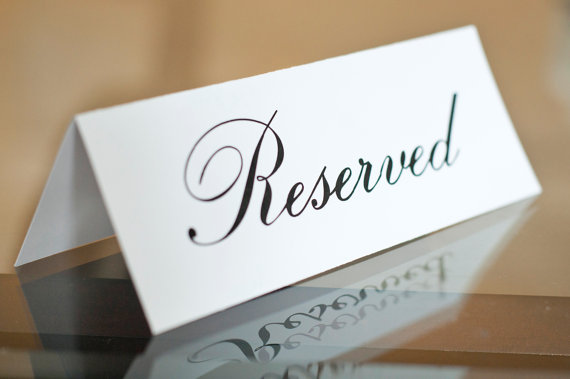 "Should I reserve a company name with Delaware prior to filing?" We hear this question almost daily. Traditionally, it's easier (and less expensive) to just go ahead and file the new company. However, in some cases this may not be an ideal solution. Albeit rare, you could be in a situation where it's a good idea to reserve the name. Maybe you have fallen in love with the company name and you want to make sure someone else isn't going to beat you to the punch, but at the same time, you aren't ready to move forward with filing your Delaware LLC or corporation quite yet. In other cases, clients may have already determined that the birthday of the new company must be Jan.1, 2015, for example, and you want to secure the name until then. Whatever the case may be, if you have deemed it necessary to reserve the name you have a couple of options:
You can reserve the name with the State of Delaware Division of Corporations directly for $75, which will put a hold on it for 110 days. (Be sure to hold on to the reservation receipt.)
You can reserve the name through Harvard Business Services, which will make things easier when you're ready to file. (We'll retain a copy of the reservation for you.)
Aside from scenarios such as these, in almost all cases, it's often best to just move forward with the company registration. Why?
The cost of the name reservation is non-refundable and the state does not apply this towards the cost of the company registration.
If you misplace the name reservation receipt, the state of Delaware may not allow you to file the company without it.
If and when clients decide to change or modify the name at the last second, even slightly, it defeats the purpose of the name reservation.
The name reservation may drastically delay the approval process. (We generally have the company approved in two to three days. This could delay the process by a week or more.)
When you file your company through Harvard Business Services, we check the name in real-time. If the name is available, we file the company almost instantly, which will then lock down the company name. We generally have the company to the state of Delaware and back, approved, within two to three business days.
If you have any questions regarding reserving the name for your new Delaware corporation or LLC, call us today at 800-345-2677. We're ready to help you!
Our March 2015 Discount: $30 Off All Green Packages!
---
By Michael Bell

Sunday, March 1, 2015
The end of the first quarter is upon us and Harvard Business Services is already breaking records in 2015! To show our appreciation, we're extending our Green formation package discount through the month of March.
The discount for the Green package will be available starting March 1, 2015 at 12:00 a.m. EST and will end on March 31, 2015 at 11:59 p.m. EST.
To apply your discount, simply enter the word "Green" on our easy-to-use online order form
The Green formations package is the most economical and environmentally-friendly way to way to start a company at the price of $249. Everything is sent via email in 24 to 48 hours! See below for a detailed description of the Green package:
Name Check & Clearance
We make sure your company name is available to be filed in the state of Delaware.

All Delaware Filing Fees
State fees required for forming a minimum stock corporation or LLC are included in the price.

Preparation of Certificate of Incorporation/Formation
We take care of everything that's needed to prepare and file your certificate.

Preparation of Articles
We prepare and file the articles for your certificate of incorporation/formation with the state.

Same-Day Electronic Filing
Your new company is filed with the state of Delaware on the same day you place your order!

Registered Agent Service for 12 Months
Your first full year of the best Delaware registered agent service is included for free!

Lowest Agent Fee! Only $50/Year
Guaranteed never to increase!

Email with Approved Documents
You'll have the official approved documents in 24 to 48 hours!

Free Lifetime Customer Support
Our helpful and experienced staff is happy to assist you throughout the life of your company!

All Delaware Compliance Notices
We keep you informed of all annual requirements to keep your company in good standing.

Digital Corporate Seal
You'll receive a complimentary digital corporate seal featuring your new company's name!
With spring just around the corner, there is no better time to start your business than right now. Check your company name availability or form your company now! If you have any questions please reach out to us via phone (1-800-345-2677), email, skype (Delawareinc), or live chat.
Is Your Delaware Company in Good Standing?
---
By Amy Fountain

Tuesday, February 24, 2015
There will be times when you'll need to check on the status of your Delaware entity and possibly obtain a certificate of good standing. Perhaps you are applying for a bank loan. Possibly you are filing a foreign qualification in another state. Maybe you are entering into a contract with a third party. Or maybe your entity is merging with another entity. Whatever the reason, you will need to perform a quick search to ensure the company is still considered active and in good standing with the state of Delaware. Companies that do not meet these qualifications are unable to proceed with transactions such as these.
Your search may begin directly with the state of Delaware website. Their website provides limited information about entities formed in this state. You would be able to determine the exact name of the entity, the Delaware state file number, formation date, entity type/kind, residency and details of the registered agent. These are basic details about the entity, and do not reveal any internal information regarding the company.
Upon viewing the search results, the state of Delaware website explicitly states "This is not a statement of good standing." Do not worry, this does not mean that your company did not qualify. It simply means that the details noted on the website are not the equivalent of an actual certificate.
The state of Delaware has an official document called a "certificate of good standing" which is also known as a "certificate of existence". This document is printed on special paper, indicates several specific points about the entity and is signed by the secretary of state of Delaware. Generally, this is the legal document that would be needed to prove that the entity is actually in a good standing status with the state of Delaware.
Therefore, the difference is that you would not be able to use the quick search results on the state of Delaware website to validate the status of your entity. If you need to provide proof of your status, then the certificate of good standing must be obtained.
If you need to determine the status of your Delaware entity, you can simply contact our office and we will be happy to assist. We have direct access to the state of Delaware database and can tell you immediately if your company is in good standing or not.
Should you need an official certificate of good standing document, then we can obtain a copy for you as well. You can visit our good standing section and place an online order for the document. We will obtain it from the state and send it to you the same business day.
If it is determined that your entity is not in a good standing status, we can also provide all the necessary information to help you restore the company, and take care of everything for you.
If you have any questions, simply contact our office at 1-800-345-2677, extension 6904 and a representative will gladly help.
Your Delaware Corporation Franchise Tax Is Due By March 1
---
By Amy Fountain

Monday, February 23, 2015
March 1, 2015 is a Sunday ... . Why do you need to know this? Because every corporation (not LLC) that is incorporated in the state of Delaware is required to file an annual report and pay a franchise tax fee by March 1 of each year. But just because the deadline falls on a Sunday, it does not mean that the state of Delaware will extend the due date until Monday. You must file and pay the annual franchise tax report by March 1 or the state of Delaware will automatically impose a $125 late penalty plus interest.
We can assist with the filing of the franchise tax annual report for your entity for a small service fee. If you have not paid and filed your Delaware franchise tax report yet, you need to take care of this TODAY! Pay your Delaware corporation franchise tax by clicking here.
To get started with the online franchise tax filing, you simply need your exact company name and Delaware state file number. We can perform the franchise tax filing, regardless of whether Harvard Business Services is your Delaware registered agent.
To ensure that all franchise tax filings are properly filed with the state of Delaware by the deadline, we must impose a cut-off time. This will allow our office to accurately process all annual reports in our possession before the deadline.
Our office schedule on Friday, Feb. 27 is as follows:
At 2 p.m. EST, we will no longer be accepting any new franchise tax payments via telephone, fax or email. The ONLY filings we can accept after this time is via our website at: www.delawareinc.com/payft.
At 5 p.m. EST, our office will be CLOSED. We will be unable to answer any telephone calls, correspond via live chat, respond to emails, etc.
At 8 p.m. EST, our website WILL NOT accept any more online franchise tax payments.
After 8 p.m. EST on Feb. 27, we will no longer be able to take any franchise tax payments in any form. You will need to contact the state of Delaware directly to make payment and filing arrangements. Their direct contact details are as follows:
Website: corp.delaware.gov
Telephone: 302-739-3073
If you have any questions about the franchise taxes and the deadline, please telephone our office at 1-800-345-2677 or 1-302-645-7400, extension 6901. You can also email your questions to franchisetax@delawareinc.com.
Common Tax ID Number Questions for Delaware LLCs -- Answered!
---
By Brett Melson

Tuesday, February 17, 2015
Once a Delaware LLC has the certificate of formation stamped and approved by the state of Delaware, the next natural step is to obtain a federal tax ID number, also known as an EIN, from the IRS.
An SS-4 form is completed and submitted to the IRS in order to generate the tax ID number. When applying for the EIN number, there are a number of questions that will be required to be complete the SS-4 application. This post will help to clear up the questions that many clients get stuck on when applying for the tax ID number for the Delaware LLC.
Name of the LLC- What was the exact name submitted to the Delaware Division of Corporations office, be sure to include the full name with the LLC at the end.
To whom should notifications be sent- The IRS would like to know with whom they should communicate; this person can be located anywhere in the world. Some examples could be the LLC's member, manager, tax professional or attorney.
Mailing address of the LLC- Where the tax related matters should be sent, this does not have to be an address in the US
County and state where principal place of business is located- the IRS needs to know exactly where in the world this will be. The principal place of business can be located anywhere in the world and does not have to be in the US
Name and social security number of the responsible party – typically this information is one of the members of the LLC. Keep in mind that a member of a Delaware LLC does not have to be located in the US or a Citizen of the US. The member can be located anywhere in the world. If the member does not have a Social Security Number, that is acceptable. However, if the member does have a SSN the number must be provided.
How is the LLC going to be taxed- This is a crucial step and can have drastic tax consequences for the LLC. Typically the LLC will automatically be classified as a partnership, if the LLC has more than one member. If there is only one member the classification is a sole proprietorship (for a single-member LLC) for federal tax purposes. What this means is the LLC will have the asset protection the LLC affords, but the taxation is the same as a partnership (for a multi member LLC) or a sole proprietorship (for a single member LLC). An LLC will typically be required to file the same exact federal tax forms as a partnership or sole proprietorship when it comes time to prepare and file the Federal tax returns with the IRS.
An LLC may elect to be treated and taxed as a S corporation or a C corporation by the IRS. It may be a good idea to consult a tax professional regarding the consequences / benefits of making the S or corp election with the IRS.
Clients can change the classification with the IRS at any time down the road with the help of a tax professional.
Date the business was started or acquired- this is typically the date of formation of the Delaware LLC
Closing month of the accounting year- to keep things simple most of our clients choose December, unless specifically instructed by their tax professional to choose otherwise.
Highest number of employees expected- This information can always be updated and is hard for new companies to gauge since there are many factors that come into play. Clients typically do their best to estimate this figure.
Select a category the LLC best falls into- There are 12 categories. Do your best to choose one. If you're unsure, there is an option of "other."
Brief description of the business- Do your best to tell the IRS a little bit more about what the LLC will be doing. If construction was selected as a category, what type of construction? If other was selected as a category, provide a brief description of the activities.
Don't let the process of obtaining a tax ID number for your Delaware LLC intimidate you! HBS offers a service to quickly and easily obtain a tax ID number for the newly created Delaware LLC and take the stress and aggravation of dealing with the IRS away!